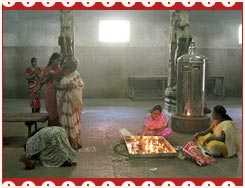 Madurai is an example of cultural diversity. Owing to its glorious past, the richness of its culture is visible in everything. This includes its architectural majesty, customs and traditions, religious sanctity, magnificent art work, handicrafts, ballads, folk dances, dramas, songs, festivals and ceremonies. The city has very-well blended its ancient cultural heritage, with the fast paced technological advancements. Madurai is expanding rapidly and is one the major commercial centers of South India. The growing number of educational institutions and industries in Madurai are live examples of its progress.
People
A profound influence of the culture heritage of Madurai is seen over its people too. Though the people of the city are slowly adopting the modern lifestyle, their value system remains intact. The social fabric of the place is well fabricated and its people live in harmony with each other.
Religion
The major religion of the people of Madurai is Hinduism. There is also an evident number of Jains, Muslims and Christians in the city. Madurai is an ideal example of unity in diversity. With people following different religions there is no clash amongst communities.
Language
The main language spoken by the people of Madurai is Tamil. It is spoken in its pure form. The Sourashtra language is spoken by the people of Sourashtra community, which is significantly present in the city. People also speak a host of other regional languages like Telugu, Malayalam, Hindi and Urdu. English, being an important international language, is widely spoken by the educated people of Madurai.
Arts and Crafts
Madurai has become a big commercial centre in the south. It is famous for its textile industry which is growing in stature with time. The city contributes immensely to the textile wealth of the county. The textile industry still uses its ancient techniques of weaving.
History
Madurai is one of the ancient cities of South India with a glorious history. It is famous for its world acclaimed Meenakshi Sundareswarar Temple. The city of Madurai has been constructed in the form of a lotus and is built around the temple. It is situated on the banks of the river Vaigai.
Festivals
Madurai is famous for its spirit of festivity. There are a number of festivals celebrated in the city, forming an important part of its cultural heritage. People from across the globe gather here to be a part of these festivals. All the major festivals in the Madurai city of Tamil Nadu are celebrated with great pomp and show.