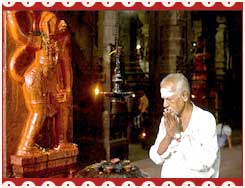 The major religion of the people of Madurai is Hinduism. There is also an evident number of Jains, Muslims and Christians in the city. Madurai is an ideal example of unity in diversity. With people following different religions there is no clash amongst communities. There exists a mutual respect for each other's religious beliefs and practices. People celebrate their respective festivals with great pomp and show, live in harmony and are religiously tolerant.
Hinduism
Madurai is renowned the world over, for its temples. Majority of the population here follows Hinduism. The people of the temple city visit temples on a daily basis to offer their prayers, have a strong religious foundation and stick to their customs and traditions.
Jainism
The teachings of Lord Mahavira have spread to the different parts of the world. In Madurai also, there is a small population which follows Jainism.
Islam
Islam is another one of the religions followed by the people of Madurai. There are a number of mosques in the city where Muslims go to offer their prayers.
Christianity
After Hinduism, Christianity is widely followed by the people worldwide. Madurai, also has a small population of Christians. The churches in the city are a great place to attend spiritual lectures and sermons.