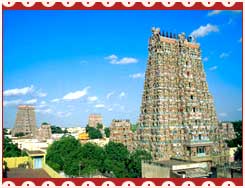 Madurai is popularly known as the temple city of South India. It is one of the ancient cities in Tamil Nadu and is famous for the architectural splendor of its numerous religious places. The beautiful scriptures of its temples are intricately carved and transport the visitors to the ancient era. For example, the beauty of the Meenakshi temple is simply incomparable. Madurai is a spiritual centre for the devotees across the globe. It is considered one of the most blessed places on the phase of the earth and is supposed to be the abode of Lord Subramanya. In this section, we have covered the various places of worship in the Madurai city of Tami Nadu.
Alagar Koil
Alagar Koil is a temple dedicated to Lord Vishnu. It is situated at a distance of 21 km from Madurai, on foot of Alagar hills, amongst the natural beauty of the woods. The Vaishnavite temple is famous for its beautiful sculptures and exquisite 'mandapams'. It is believed that pilgrims visited Azhgar Kovil even in the early days of the Sangam age.
Meenakshi Temple
Meenakshi Temple is the most exquisite example of the Dravidian architecture. It is a master piece and was the center of activity for the promotion of art and culture in Madurai. It is the main attraction of the city and pilgrims come to the place in the search of spirituality and peace. The temple is dedicated to Goddess Meenakshi and Lord Sundareswarer.
Thirupparankundram Temple
Thirupparankundram Temple is a rock-cut temple of Lord Subramanya, situated at a distance of 8 km from Madurai. The temple is thronged by devotees throughout the year, as it is one of the holy abodes of Lord Murugan. This temple was built by Pandayan King in the 8th century. The innermost shrine is cut out of a solid rock.
Koodal Azhaar Temple
Koodal Azhagar Temple is near Madurai and is amongst the 108 Divyadesams of the Vaishnavites. The temple is dedicated to Lord Vishnu and is one of the holiest places near Madurai. There are huge beautiful idols of Vishnu and Lakshmi here. The gopuram is intricately carved with various gods and goddesses. The tower is made up of three tiers and bares figures of Vishnu in three postures namely sitting, standing and reclining one above the other. There are also exquisite wood carvings in the temple. During festival "purataasy sani" special poojas and offerings are done. The temple finds mention in Sangam literature and is one of the few temples made in tiers.
Pazhamudhirsolai
This temple is located on a hill adjacent to Azhagar Koil. It is one among the six abodes of Lord Murugan. A natural spring called Nuburagangai is also located here where people take bath before worshipping the Lord.