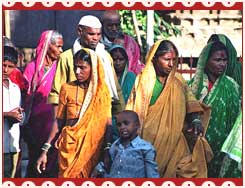 A profound influence of the culture heritage of Madurai is seen over its people too. Though the people of the city are slowly adopting the modern lifestyle, their value system remains intact. The social fabric of the place is well fabricated and its people live in harmony with each other. They follow a very simple lifestyle. Though the city never sleeps, people start their day early. The daily routine begins with a religious bath. Then, they offer prayers and light the lamps.
They make abstract patterns with flour at house entrances and finally visit temples. The people are polite, good natured, cordial and friendly. They respect, and adhere to, their traditions strongly. They wear traditional clothes like Sari and Dhavani. Madurai people believe in simplicity and are hard working, sportive and cultured. The best mode of recreation for them is cinema. The local dialect may not be understood very easily, but is definitely music to the ears.
The culture of Tamil Nadu is famous for its hospitality and the same holds true for Madurai too. The people here are warm and welcome the visitors with open arms. Even a stranger is treated humbly, with utmost concern. Madurai people usually have a helping attitude and go out of their way to make their guests feel comfortable. They are cheerful and relaxed in their daily life. It is due to this reason that the crime rate is relatively lower here.
Madurai has become a great commercial as well as a learning centre. It is because of this reason that there is a great influx of people in the city from various parts of the country. Though the city now presents a blend of different cultures, its people have preserved the essence of their ancient culture and are proud of their heritage.