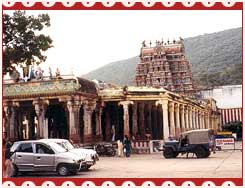 Alagar Koil is a temple dedicated to Lord Vishnu. It is situated at a distance of 21 km from Madurai, on foot of Alagar hills, amongst the natural beauty of the woods. The Vaishnavite temple is famous for its beautiful sculptures and exquisite 'mandapams'. It is believed that pilgrims visited Azhgar Kovil even in the early days of the Sangam age. According to Hindu Mythology, Lord Vishnu came to this place from his heavenly abode to give away Goddess Meenakshi in marriage to Lord Sundareswarer.
Here, Lord Vishnu resides as Azhgar, brother of Meenakshi. A huge crowd of devotees is seen here in the month of April/May when Chithirai Festival is celebrated. During the festival, wedding ceremony of Goddess Meenakshi and Lord Sundareswarer takes place and Lord Azhgar travels to Madurai. A gold processional idol of Azhgar, called Sundararajar, is carried in procession by the devotees from Alagar Koil to Madurai for the divine wedding ritual.
The splendid main tower at the entrance is believed to have been built by the Pandyan Kings. According to the historical background of the place, Malayadhwaja Pandyan, son of Kulasekhara Pandyan, was the earliest known monarch to patronize the temple. Jatavarman Sundara Pandyan beautified the 'vimana' of the shrine with gold plates. After the Pandya rule, the Nayakas patronized the deity.
The main deity of this temple is called Paramaswamy and the processional idol is called Alagar or Sundararajan. The stunning idol is made of pure gold and is an exquisite example of craftsmanship. There is shrine of Kalyana Sundaravalli, the divine consort of Alagar, in the southern enclosure. There is another shrine in the north dedicated to Andal. Other important shrines are of Sudarshanar and Yoga Narasimha.
There is another shrine nearby, dedicated to Karuppannaswamy, the God of Kallars. There are finely carved eighteen steps, which are an object of both worship and amazement by the devotees. It is claimed that nobody dares to tell a lie at this spot. The place is also known for its holy springs called Silamboru and Noopura Gangai. According to local tradition, these springs originated from the anklets of Maha Vishnu during His incarnation as Trivikrama.