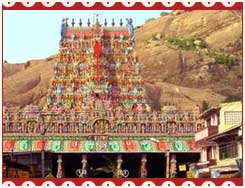 Thirupparankundram Temple is a rock-cut temple of Lord Subramanya, situated at a distance of 8 km from Madurai. The temple is thronged by devotees throughout the year, as it is one of the holy abodes of Lord Murugan. This temple was built by Pandayan King in the 8th century. The innermost shrine is cut out of a solid rock. Apart from Lord Subramanya, there are also separate shrines for Lord Shiva, Lord Vinayaka, Goddess Durga, Lord Vishnu and other deities. The entrance of the temple has cubical pillars with lotus medallions.
There are two dwarapalas at the main entrance of the Thirupparan Kundram Temple and two more each on either side of the Lord Shiva and Lord Vishnu shrine chambers. It is believed that the marriage of Lord Subrahmanya with Devasena, the daughter of Lord Indra, took place here only. Therefore, this temple is regarded as an auspicious place for marriages. There is a popular belief that people who get married here get special blessings from Lord Muruga. Couples believe that their marriages will be successful if they marry here.
The rock-cut chamber on the west is the shrine of Lord Shiva and houses a lingam. The chamber on the eastern side has a relief of Lord Vishnu. Just opposite to it is a figure of Goddess Durga carved in a wall inside a shrine chamber. On either side of this are the figures of Lord Subramanya and Lord Ganesha respectively. Coming out of the main shrine, there are a number of figures sculptured on the rock surface. On the east of the entrance, there are carvings of Narasimha, Vishnu and Varaha. On the western side are those of Shiva, Nandi, Nataraja and Devi.
This temple is not only worshipped by Hindus, but also by the Muslims. There is also a Muslim shrine here, dedicated to 'Sekunder'. This shrine is associated with Murugan by the Muslim pilgrims. It is believed that Sekunder was a friend of Muruga. The temple also celebrates a 14-day festival in March/April, to commemorate the victory of Lord Murugan over the demon Suran. This is followed by his coronation and his marriage to Devasena. Devotees visit the place in huge number to witness the divine wedding.