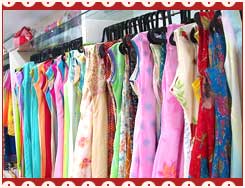 Madurai had been famous for its culture and traditions since the Sangam period. It was the hub of the activity and contributed immensely to the development of Tamil Art and Literature. These values are ingrained in the people of Madurai. They are proud of their cultural heritage. Thus, with the rapid westernization, the people have not done away with their age old custom and traditions. The value system of the people of Madurai has a strong foundation.
The people of Madurai are hospitable, friendly and honest. In Madurai women usually wear Dhavani or Thavani (half Sari), and sarees. Salwar Kameez, a North-Indian ethnic wear for women, has also made inroads into the city's populace. In the recent times, people have also started preferring western wear, but they are not brand conscious. The city lacks the party culture and working environment of the metropolitan cities. This also stresses on the fact that the people prefer simplicity.
If you are traveling to Madurai city of Tamil Nadu in the summer months, then cotton should be the preferred fabric in clothes. The city has a hot and humid climate during summers so wearing comfortable clothes is very important. During winter months the weather is pleasant and you can experiment with your attire. But cotton remains the perfect solution to the questions 'what to wear in Madurai' or how to dress for Madurai travel', in all seasons.