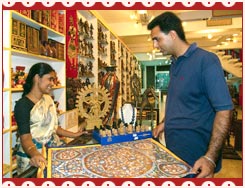 Though Madurai does not offer much to those who love to shop, but still shopping in Madurai can be adventurous. The city is famous for its textile industry since long. So, the best items to purchase here are readymade garments, fabrics and sarees. You will also find a number of tailors, along with the garment shops in the market. The city also has handicraft shops where people can buy some good art pieces for their house. The shopping places in Madurai are usually packed with people, especially during weekends and festivals.
You can enjoy the colorful shops and spend time bargaining for your favorite item. Since clothes are a specialty here, the most famous shopping items are cotton fabrics and Batik and Sungundi Sarees, providing a great deal of variety for the Indian woman wardrobe. The best market for cotton is the Prithu Mandapam. It is an old pillared hall inside the eastern entrance of Meenakshi temple. Here, you can buy good cotton and batiks, for which Madurai is famous. After shopping you can sit back and relax on the Pottramarai tank and feel the essence of the city.
For buying handicrafts, you can go to the Handicrafts Emporiums of Government situated here, which offer handicrafts from all over India. You can also visit the Government Poompuhar Handicrafts Shop, Cottage Arts Emporium and the Madurai Gallery. Here, you can get hand-woven silks and cottons, bell-metal lamps, bronze images, wood and stone carvings. Leading shopping areas of the Madurai city of Tamil Nadu are Chithirai, Avanimoola, Puthumandapam and Thevangu Chetty Choultry. You can also explore the following outlets for a nice shopping experience.
Fabrics & Sarees
Hajeemoosa (East Chithirai Street)
Kumaran Silks( Vengala Kadai Street )
Rajmahal Silks (Vengala Kadai Street)
Adams 88 & 89 (South Masi Street)
Alankar Textiles -Sungudi Sarees (South Avani Moola )
Ranee Sarees - Sungudi Sarees (South Masi Street)
Selections (South Chithirai Street)
Designs (Nethaji Road)
Nellai Dresses (Vilakkudhun)
Co-Optex Sales Emporium (West Chithirai Street)
Khadi Emporium (Town Hall Road)
Sri Krishna (West Tower Street)
Benzers (Nethaji Road)
Handlooms
Handloom House (East Veli Street)
Co-Optex (West Tower Street)
Co-Optex (South Chithirai Street)
Handicrafts
Madurai Gallery Cottage Expo Crafts (North Chithirai Street)
Cottage Industries Exposition Ltd (Nethaji Road,)
Cottage Arts Emporium (North Chithirai Street)
Poopahar Sales Emporium (East Avani Moola Street)
Poopuhar Handicrafts (West Veli Street)
Surabi Handicrafts (West Veli Street)
Khadi Gramayog Bhavan (Town Hall Road)
All India Hanidcrafts Emporium (Town Hall Road )