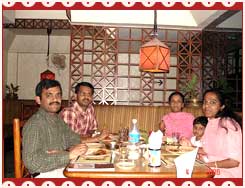 If you are a foodie and enjoy eating out, then Madurai is the right place for you. Madurai has a host of restaurants, hotels and road side food stalls. All of them are famous for their fresh and tasty traditional South Indian food . Madurai is famous for the Jil Jil Jigarthanda, Paruthi Pal, and sugar cane juice. Jigarthanda is a delicious drink made of algae, milk and sugar. Paruthi pal is another drink prepared by cotton seeds, flour of raw rice, coconut and jaggery.
There is also a special 'fruit mixture' drink that is sold near the Meenakshi Amman Temple. In Madurai, food is available at reasonable prices and you can satisfy your apetite almost 24 hours a day. Madurai's road side food joints are available almost all the time. The tourists are recommended to try the Dosa and pongal here. There are over 30 variety of Dosas available here. Some of the famous restaurants in Madurai, providing the answer to 'where to eat', are
Modern Restaurant
It is famous for its spicy Chilli Parantha,garnished with green chillies, lemon and cilantro.
Murugan Idli Shop
It is famous for its steanimg hot idlis and a variety of chutneys with it.
Arya Bhavan
It is located on the corner of west Masi Street and Dindigul Road. It is famous for its astoundingly large dosa.
Ruby Restaurant
Is located next to Ruby Lodge, on the west Perumal Maisury Street. It is the only garden restaurant in Madurai. Delicious non-veg food is served here. The tandoori items served here are the best. It's a popular place for a drink and stays open until after midnight.
Temple View Roof Top Restaurant
It is located in the Hotel Park Plaza and serves non-veg dishes. One can also enjoy delicious vegetarian dishes here.
Taj Garden Retreat
There are excellent A la carte meals in this multi-cuisine restaurant. Buffet is organised on Saturday and Sunday evenings.
Other good food joints are