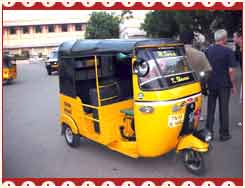 Madurai is a lotus shaped city built around the Meenakshi Temple. According to the old city plan, the city streets are in concentric circles. There are narrow roads which have become incapable of handling the rising traffic in the city. However new bridges have been constructed across the river Vaigai. This is to connect north Madurai and south Madurai as well as to regularize the traffic between the two. In summers, traffic might seem a problem as it adds up to the dust and noise pollution.
In Madurai city of India, most of the people use two wheelers for transportation. The traffic inside the city is usually fine, but the heavy vehicles like trucks and tri cycles create congestion in the market place during the peak hours. The traffic policemen make use of manual light, made of plastic. During the festival time and weekends, there are some traffic related problems in the city as people are in party mood. However, as far as public transport is concerned, the city has lots of options.
Cycle Rickshaws
Cycle rickshaws are preferred mode of local transport for small distances. The charges are quite nominal too.
Buses
The other major mode of local transportation in Madurai is the city bus. People travel from one part of the city to the other by city buses only. During peak hours, like in the morning and the evening, the buses are quite crowded. Being one of the most important means of public transport, you will find a lot of rush in the buses during the festivals. The other options available are Town buses and suburban buses, connecting the nearby places. Madurai has five bus stands to cater to the needs of the people.
Auto rickshaws
Auto rickshaws are another medium through which you can travel across the city. The auto drivers do not follow the fare meters so the fare has to be negotiated before hand. The fare is paid in cash and it is a comfortable way of traveling in the city.
Taxis
Taxis are an expensive means of traveling. They are usually preferred when going for a sight seeing tour or exploring the tourist places near the Madurai. Taxis charge money on per day basis and should be hired when in a group.