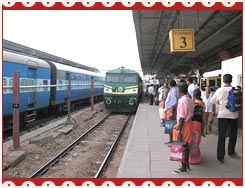 If you are thinking of traveling to Madurai, then, your first query will most probably be how to reach there. Madurai is the second largest city in the state of Tamil Nadu and also an important commercial center. Therefore, it is well connected to all the parts of the state as well as the country. There is a huge influx of tourists as well as pilgrims reaching the city every year. This makes tourism one of the major means of revenue collection for the city. As a result, a strong transport system has been developed by the Government. Thus, getting to Madurai city of India is not at all a problem.
By Air
If you are traveling by air, it is very convenient to reach Madurai. The city is well connected to all the major cities of the nation. There are daily flights to Madurai from Chennai, Bangalore, Tiruchi and Coimbatore. Madurai Airport is just 10 km away from the city.
By Rail
Madurai falls on the Madurai-Tiruchirappalli-Dindigul-Quilon line. It is an important railway junction of the southern railway, directly connected to Chennai and Tirunelveli via railway lines. The fastest train on the route is the Vaigai Express, a super-fast day train between Chennai Egmore and Madurai. It just takes 7 hours to cover a distance of 495 km.
By Road
Madurai city is well connected to all the parts of South India. There is an excellent bus service at regular intervals, which facilitates comfortable journey. Madurai city has 5 major bus stands, from where you can get bus to most of the cities of Tamil Nadu as well as the neighboring states.