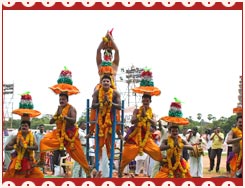 Madurai is buzzing with activity round the year. It offers immense variety in terms recreation. From holy places to clubs, from parks to sanctuary, from museums to cinema halls, so on and so forth. You name it and you'll find it there. When you visit the Madurai city of India, one thing is for sure; you will never ever get bored. Apart from the usual sightseeing places, the city has many other things to offer to its visitors, like art galleries, auditoriums, clubs, cinema halls, and so on.
Art Galleries
There are a number of art galleries and museums in the city which showcase the age old artifacts and relics. A treat for art lovers, the city provides various opportunities to tourists to explore its rich heritage.
Auditorium
The city has a number of Auditoriums where a host of cultural programs are conducted. Classical dance and music can be enjoyed by the tourists at these auditoriums. Other activities that take place here are Exhibitions, Lectures, festivals, Expositions etc.
Cinema
There are a host of Cinema halls in Madurai. The city is a paradise for the movie maniacs. One can keep himself thoroughly entertained and enjoy some South Indian Movie masala at its best.
Clubs
There are a number of clubs in Madurai which offer various recreational activities. One can make the most of the time here and indulge in their respective hobbies.