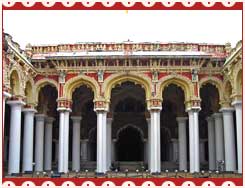 Thirumalai Nayak Palace of India is an example of architectural grandeur and was built by King Thirumalai Nayak in 1636 AD. The palace was designed by an Italian Architect and served as the residence of the King. It is situated at a distance of 2.5 km from the Meenakshi temple of Madurai. The palace is divided into two major parts, Swargavilasa and Rangavilasa, which include the royal residence, theatre, shrine, apartments, armory, palanquin place, royal bandstand, quarters, pond and garden.
During his reign, King Nayak conducted daily dance and music performances in the Thirumalai Nayak Palace. He used to offer prayers to Goddess Rajrajeswari every morning in the palace shrine. The shrine is richly carved in stone and its dome was once covered with gold. Later, the palace was destroyed by his grandson Chokkanatha Nayak and the valuables were shifted to other places, so that he could build his own palace. The original Nayak Palace Complex was four times bigger than the present structure.
Today, the palace is famous for its courtyard and the dancing hall. Tourists are fascinated by the paintings and sculptures in the shrine. The ceilings are decorated with huge paintings, based on Shaivite and Vaishnavite themes. The painting of the marriage of Sundareswarar with Devi Meenakshi is an exemplary work of art. Furniture and utensils used by the kings have also been exhibited in the palace which transports the visitors to the historic era.
After independence, the palace was declared as a national monument. It is now looked after by the Tamil Nadu Archaeological Department. Tourists can visit the palace anytime between 9 am and 5 pm on payment of the entrance fee. Enthusiasts can also enjoy the Light and Sound shows organized in the palace. The shows are in both Tamil and English languages. They narrate the tales about the glory of King Thirumalai, his passion for arts, his victories in battle and his love for his subjects. The duration of each show is half an hour.