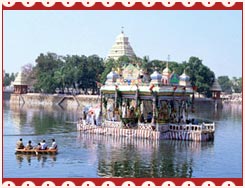 Vandiyur Mariamman Teppakulam is situated at a distance of about 5 km from the Meenakshi Amman Temple. The area of the tank, and the island pavilion with a garden in the center, is approximately equal to the area of Meenakshi Temple. It is one of the largest temple tanks in South India and gets water supply from the Vaigai River. There is a Vinayakar temple situated right in the middle of the tank, which is dedicated to Lord Vigneshwara, the Elephant-faced God.
According to mythology, earth was dug out from the tank to build the Tirumalai Nayakkar Mahal. The place was supposed to be blessed and was later converted into a Teppakulam (tank). The tank is connected to Vaigai River via underground channels. It has total of 12 long stairs (steps) made of granite on all four sides. The temple as well as the stairs was built by the King Thirumalai Nayak.
Mariamman Teppakulam is famous for the celebrations of the Float festival, which is celebrated in the Tamil month of Thai. The festival commemorates the birthday of King Thirumalai Nayak. The celebrations take place on a full moon night and the pristine water turns colourful as the temple is lit. The deities of the temple come down to the tank in colorful floats, presenting a mesmerizing sight. Pilgrims across India come to Madurai to participate in the festival.