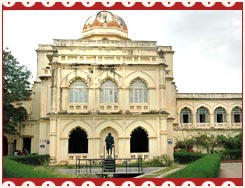 The Gandhi Museum of Madurai was established in the loving memory of the Mahatma Gandhi, the Father of the Nation. It holds great historical importance and was set up by the Gandhi Memorial Trust after the assassination of Bapu in 1948. The museum has been set up in the Palace of Rani Mangammal of Nayak Dynasty. The palace was donated by the Tamil Nadu Government to the trust in 1955, to commemorate the contribution of Gandhi to India.
Gandhi Memorial Museum organizes exhibitions, study circle meetings, seminars, fine arts training courses, summer camps, group discussions, classes on Yogasana and Naturopathy. It also conducts educational programs for college and high school students of Madurai, which includes class room study with film projection, slide show and museum gallery tour. Cultural programs, public meetings and weekly film shows are organized in the open-air theatre with a capacity of 8,000 people.
Lectures are also given to youth on Gandhi's teachings. Gandhi Museum contains various sections, such as exhibition, pictorial gallery, Khadi and Village Industries Section and a library. The exhibition named
"India Fights for Freedom"
includes 265 depicts and illustrates the history of freedom struggle. Then, there is the picture gallery, showcasing the biography of Mahatma Gandhi through photos, sculptures, paintings, quotations, manuscripts and other articles.
The Khadi and Village Industries Section exhibits fine South Indian village industries and handicrafts associated with Gandhiji. The museum library contains books on Gandhiji and cultural background of India. The library has about 27,000 letters of Gandhiji and 62 reels of micro-films. It also includes a research section with a meeting hall. Book review meetings are held here periodically. The museum also displays the blood stained dhoti of Gandhiji, which he was wearing at the time of his assassination.