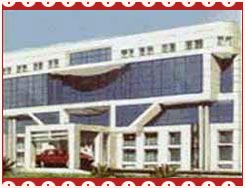 Rating:
3 Star
Address:
38, Madakulam Road, T.P.K. Road, NH-7
Palanganatham, Signal Junction
Madurai-625 003
Tamil Nadu
Accessibility:
12 kms from Madurai Airport; 3 kms from Madurai Junction; 2 kms from Periyar Bus Stand
Locational Advantage:
The GRT Regency is located very close to National Highway amidst peaceful and serene environs.
Hotel Description:
The GRT Regency is one of the well-known 3 Star government hotels of Madurai. The hotel is located on the outskirt of the town and is 3 kilometers from the Madurai Junction. The hotel offers modern amenities and a pleasant ambience. The hotel is renowned for its warm hospitality. The GRT Regency Hotel is a perfect destination for business as well as leisure travelers.
Accommodation at GRT Regency:
The GRT Regency offers a total of 55 centrally air-conditioned rooms. The rooms are gracious and well appointed with modern amenities like color and satellite TV, mini bar, safe deposit lockers and IDD telephone.
Restaurant at GRT Regency:
The GRT Regency has one restaurant called "Aahaaram".
Amenities & Services at GRT Regency:
Multi-cuisine Restaurant, Lounge Bar, Gymnasium, Swimming pool, Satellite Television, Mini bar, Safe Deposit Lockers, Direct Dial facility, Business Center, Travel Service, Foreign Exchange, Medical Assistance.