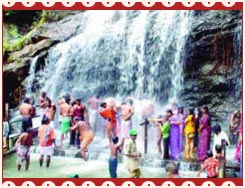 Situated amidst rich flora fauna, Suruli Falls serve as a perfect picnic spot. They lie on the way to Periyar National Park, at a distance of 123 km from Madurai. The falls originate from the Megamalai hills and descend from a height of 150 feet. They are surrounded by the astounding beauty of the dense forest and even find mention in Tamil Epic, Silappathikaram, written by poet Ilango. The best feature of Suruli Falls is that they are round-the-year falls. There are facilities for both men and women to bathe in the falls separately.
The falls serve as the venue of Summer Festival, organized every year by the Tamil Nadu Tourism Department. Although tourists visit the place throughout the year, the best time to come here is June to October. During this time, the volume of the water in the falls is astounding. The Kailasanathar Temple Cave is also an added attraction of the place. It is located near Suruli Falls, at a height of 800 meters above the falls and has a spring, which is believed to have water with curative powers.
There are also other 18 caves in and around the Suruli Falls of Tamil Nadu. Then, there is a dargah near the falls, named after a Muslim mystic, Abubacker Masthan who lived around here in 1630s. Being the last resting place of the mystic, the dargah is an important place of worship. The dargah also lies close to the cave temple of Kailasanatha. There is another temple near the Suruli Falls called the Suruli Velappar temple, dedicated to Lord Kartikeya. The pilgrims visit the temple with pots of milk on Saturday.