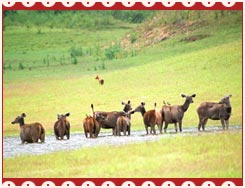 Periyar National Park is located at the Tamil Nadu-Kerala border in India. This Tiger Reserve lies 155 km from Madurai and is host to many animals and birds. The Park came to existence because of the love of the Maharaja of Travancore for nature. Amidst the high ranges of Western Ghats and Savannah grasslands, the sanctuary is situated on the bank of Lake Periyar, which is surely a nature's delight. Periyar Lake was constructed by the British in 1895 and now holds great importance for both the wildlife of the park as well its visitors.
Periyar Wildlife Sanctuary is the abode of animals like Sambars, Tigers, Gaurs, Lion Tailed Macaques, Nilgiri Langurs, etc and was declared a Tiger Reserve in 1978. The park is famous for its herd of Wild Elephants, which come, to the lake for water. Periyar Lake holds population of Travancore Tortoise and Black Turtle. The park provides the closest possible encounters with the wild animals, via boating in the Periyar Lake. It is the only sanctuary in the country to do so. Tourists can also enjoy activities like elephant rides and trekking.
Apart from this, Periyar National Park is a paradise for the bird watchers. Due to its natural surroundings, the park attracts a number of birds, some of which are resident, while some are migratory. More than 260 species of birds are found here. Some of the names of major species include Nilgiri Wood Pigeons, Black-winged Kite, Blue-winged Parakeets, Great Indian Hornbill, White-bellied Tree Pies, Laughing Thrushes, Fly Catchers, Darters, Cormorants, Barbets and Plovers, among many others. There are also, two unique species found at Periyar, Flying Snake and Flying Lizard.