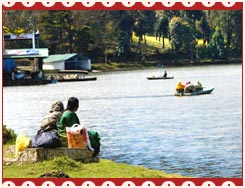 Situated at a distance of 120 km from Madurai, Kodaikanal is a picturesque hill station of South India, nestled amidst the Pali Hills. At an altitude of 2133 meters (7,000 feet), the mesmerizing scenic beauty of the place enchants the tourists. Kodaikanal is famous for its waterfalls, lakes, mountain terrain, woods and especially for 'Kurinji-flowers', which blossoms once in 12 years. So, you can sit back and admire Mother Nature at its best, here. Though the hill station is peaceful, it is not devoid of activity. There are a number of places in Kodaikanal which are a treat to the eyes of the tourists.
Main Attractions
Berijam Lake
Discovered by Spanish and British people, Berijam Lake is situated at a distance of 21 km from Kodaikanal. Protected by Forest department, it is a secluded place surrounded with pine and acacia trees. It is an ideal picnic spot and camp site and is very famous for its pristine waters. You can trek to explore the utmost beauty of the place.
Shebaganur Museum
Nearly 5.6 km from Kodaikanal, Shebaganur Museum offers 300 species of orchids to the visitors. It is also regarded as one of the best Orchidoriums in the country.
Kurinji Andavar Temple
Kurinji Andavar Temple is dedicated to Lord Subramanya. In Tamil, 'Kurinji Andavar' means 'God of the Hills'. Located at a distance of 3.2 km from Kodaikanal, the temple not only quenches the religious thirst of the tourist, but also provides heavenly view of the Palani hills.
Kodai Lake
Kodai Lake is one of the main attractions of Kodaikanal. The lake offers leisure activities like boating and fishing. It is in the form of a star and is spread over an area of twenty four hectares. It is the favorite hang out of the visitors because of its serene surroundings.
Other Attractions
Some other places that are worth visiting in and around Kodaikanal are Solar Astrophysical Observatory, Silver Cascade, Pillar Rocks, Coaker's Walk, Telescope Houses, Bryant Park, Boat Club, etc.
Accommodation
Hotels in Kodaikanal
:
5 Star Hotels in Kodaikanal
,
4 Star Hotels in Kodaikanal
,
3 Star Hotels in Kodaikanal