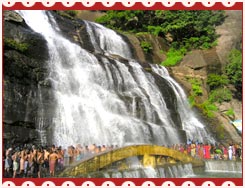 One of the major excursions around Madurai is the city Courtallam. It lies 160 km from the temple city and is famous for its waterfalls. Popularly known as the 'Spa of the South', it is blessed with immense natural beauty. A panchayat town, it is situated on the Western Ghats of India, at a height of about 167 m. Rivers such as the Chittar, Manimuthar, Pachaiyar and Tambaraparani, originate from here. The pleasant climate, scenic beauty and breathtaking waterfalls make Courtallam a hot spot amongst the tourists.
Apart from being a tourist spot, the city is also a famous health resort. Its waterfalls are said to possess medicinal properties and bathing in these falls is one of the major tourist attractions. The water of the falls runs from the forest, consisting of herbs and medicinal plants. This provides the water its therapeutic value. It is said that the water cures physical ailments very rapidly and has a soothing effect on a person. Tamil Nadu Tourism Development Corporation even provides boating facilities for tourists.
Some of the most important waterfalls at Courtallam are Peraruvi (Main Falls), Chitraruvi, (Small Falls), Shenbaga Devi Falls, Thenaruvi (Honey Falls) Aintharuvi (Five Falls), Puli Aruvi (Tiger Falls), Pazhaya Aruvi (Old Falls), Puthu Aruvi (New Falls) and the Pazhathotta Aruvi (Fruit Garden Falls). The best time to visit these falls is June to September. The climate is very pleasant here during this time. Courtallam water falls are lit during the night for the convenience of the visitors. There is a Hindu temple in the city, dedicated to Lord Siva, called the Kutraleeshwarar temple.
The Gopuram of the temple has inscriptions regarding Chola and Pandya Kings. There is also a small temple nearby called Chitra Sabha. It is supposed that Lord Nataraja performed the cosmic dance here. It is also believed that here, Sage Agastyar got the vision to see the wedding of Lord Shiva and Goddess Parvati held at Mount Himalaya. Many people get married here to be blessed by the Lord. There are a number of deities present inside the temple including Lord Vishnu, Kasi Viswanathar, Kasi Visalakshi, Tenkasi Viswanathar Swamy and Ulagammai Ambikai, Madurai Meenakshi and Sundareshwarar Swamy, etc.