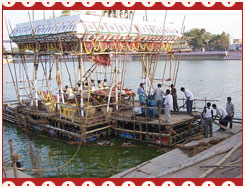 Float Festival is one of the main festivals celebrated in Madurai. It takes place on the full moon night of the Tamil month, Thai, which falls between mid January and mid February. The concept of the festival dates back to the 17th century, when it was celebrated for the first time by King Thirumalai Nayak. He constructed an artificial tank and then, built a temple of Lord Vigneswara on the island in the middle. He started the custom of taking the idols for a boat ride in the tank, on his birthday. This is how the Float festival came into existence.
At dawn, the procession of the idols of Goddess Meenakshi and Lord Sundareshwarar starts from the main temple. The deities are taken to the tank in golden palanquins escorted by elephants, horses, musicians and thousands of devotees. They are then placed in a 'Mandapam' on the banks of the lake. Here, the devotees worship the God and Goddess. After this, the idols are again carried in palanquins and placed on a raft-like structure. The raft is colorfully decorated with varieties of flower garlands, silken buntings, paper lanterns and variety of flowers.
After being placed on the float, the deities are taken for rounds in the lake with the help of ropes. The decorated float is then taken back to the central island and stays there till the evening. Devotees throng the island and reach there by boats. In the evening, the island temple is illuminated with colorful lights are looks mesmerizing. Thousands of little oil-lamps are also lighted near the lake. All these lights are brightly reflected in the water. This gives the impression as if the lake is glowing with its own light. The float is then illuminated with colored electric bulbs, fluorescent tubes and a flood lights.
The ornamental raft is converted into a scintillating object. This is followed by a display of fireworks on the shore. In this divine setting, the float is again put to water. It makes its way through the sparkling water amidst fireworks, cheers and prayers of the devotees. After completing a full round, the float is brought to the shore. Finally, the idols are placed on a beautifully decorated golden horse and are returned to the main temple in a procession with great pomp. Float Festival also celebrates the birthday of King Nayak. This festival is unique in its celebration and attracts large number of tourists and pilgrims.